Sunday 8/25:
19.5 miles, mostly roads (half paved/half dirt). Features a big climb to the top of Shutesbury (1200'), a big descent on a desolate dirt road, a defacto aid station (North Leverett CoOp), and a climb/descent over Rattlesnake Gutter. 2:16, 6:59 pace, with Matteo and Stoneman. Note that we ran this in the opposite direction from how the elevation is depicted.
Create Maps
or
search
from 80 million at
MapMyRun
Wed 8/28: Mt Toby hillclimb: Tempo effort up the Tower Road (15:53), which climbs 800' to the top of the 'mountain'; easy back down; and a short (2:43) hard effort partway up the telephone line trail. Run in its entirety, this trail climbs 800' in a mile. With dead legs from Sunday (long runs have lacked a bit) we (me and Stoneman) couldn't push for 2 complete summits today. In addition to being a great place for mountain workouts, Mt. Toby is home to unique biodiversity (mostly of the botanical variety) and a great trail race in October.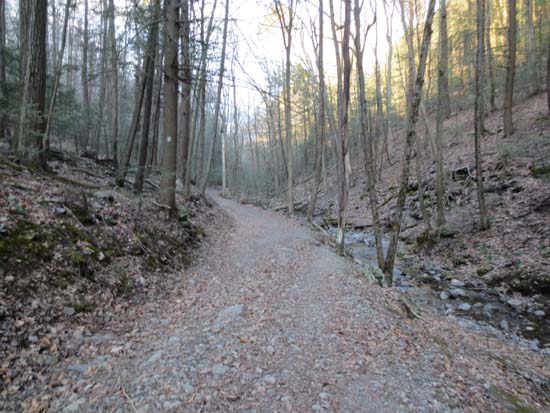 Race map for the out-and-back Mt Toby Trail Run, held in October. We use the uphill portion of Tower Road--miles 5 through 7-- for hillclimb workouts. The steeper telephone line trail (not shown) runs a mostly-straight line from the 5 mile point to the 7 mile point on this map and averages about 15% in grade.
__________________________________________________________________________________
Beer of the Moment:
I'll be drinking Octoberfests for the next few months, and here's the best I've had so far this year (I can't remember the many many others from previous 'fests):
Otter Creek Oktoberfest Lager
Grateful Dead show of the moment: 12/29/77 ,
the entirety of which was released as Dick's Picks Volume 10.